One of our most exciting new projects with designer resin flooring was the new Hospitality Zone on the 4th and 5th floor of the London Science Museum. Alongside 8Build, Sphere8 brought to life Mary Duggan Architects' design for the new space created to "provide an adaptable interior to accommodate a diverse range of events".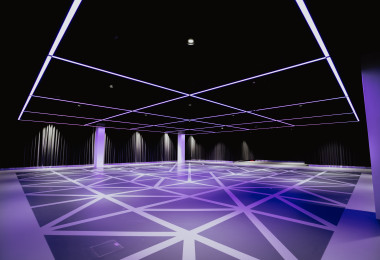 © Sphere8, 2022
The 5th floor was refloored with a composite flooring system comprising an acoustic layer, a Knauf GIFA floor panel and the Sphere8 DesignSphere resin flooring finish incorporating a complex geometric pattern The design was inspired by the works of artist Josef Alber and his book 'Interaction of Colour' 1963. Josef Alber's main theory surrounding colour was that 'In visual perception a colour is almost never seen as it really is - as it physically is. This fact makes colour the most relative medium in art.'. Sphere8 resin floors are able to incorporate any colour and any design into the seamless finish.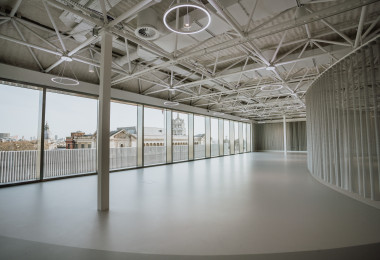 © Sphere8, 2022
The visitor areas' poured resin floor design consists of giant overlapping circles in a neutral palette of five shades of light grey. For a room previously lacking natural light this helped brighten the room. It was designed as an "ever-changing theatre of activity" which was brought to life with its use of sheer white curtains. Dividing up the room into smaller segments; changing the dynamic of the room and therefore its purpose. The circles on the floor further this as they provide a visual guide as to how to organise seating.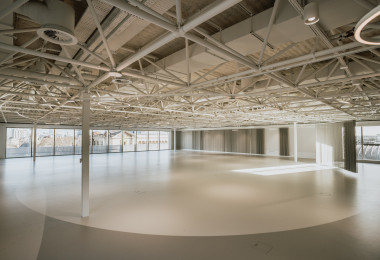 © Sphere8, 2022
Sphere8 poured resin floors are perfectly suited as museum flooring, with their high durability and non-slip surfacing options. One of the challenges for commercial flooring where an image is displayed on the floor is how to protect the image itself from damage. Sphere8 developed the DesignSphere system to allow any image to be embedded within the floorzone, so that the surface is not easily damaged. For this project the pattern was buried with thick layers of clear resin that protect the complex floor design from damage and allows the resin floor surface to be maintained easily over the years ahead.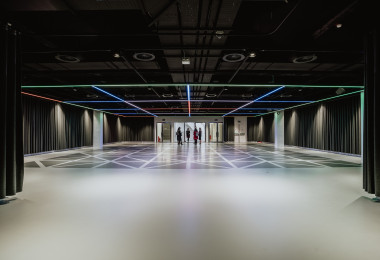 © Sphere8, 2022
DesignSphere in Custom Colour (Photography by Kris Humphreys)