We are delighted to announce that Sphere8 has once again been awarded Small Commercial Project of the Year by the Resin Flooring Association, and this year it was for a truly exciting project! Earlier this year we worked on the stunning new Wellness Clinic at Harrods, Knightsbridge! Suffice to say we were thrilled to be asked to collaborate on such an illustrious installation, and it didn't disappoint. Now that it has joined our growing list of award-winning projects we are delighted to share the very bespoke details with you…
An unexpected source
We worked in collaboration with Stanton Williams Architects, who first approached us in relation to our rock resin wall finishes. They wanted a product that was strong and wear-resistant but retained its beautiful physical properties. During our conversations with them, talk turned to the terrazzo tiles they were considering using and hoping to match – and the Sphere8 team were delighted to suggest our resin terrazzo flooring solution as an alternative. We ended up working with them on both flooring and wall finishes – contributing to a truly unique and stylish design venture in one of the world's leading shopping and lifestyle destinations.
"With a vision to create the ultimate integrative destination for wellbeing, the team took inspiration from spas around the world. Travelling to Seoul, Thailand, Tokyo, the US and Europe to see how they could rival the very best, the result is elegant, discreet and surprisingly spacious."
The Wellness Clinic offers visitors a choice between 14 treatment rooms, two personal training studios, a private consultation room and a photography studio featuring a state-of-the-art Vectra 3D Scanner System. These individual spaces all comprise a unique and decadent luxury spa experience.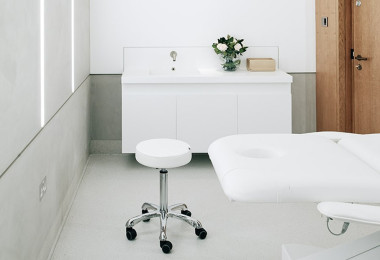 © Sphere8, 2022
Natural and restful
Stanton Williams describe their design as aiming "to create a sequence of restful spaces throughout the Wellness Clinic, using a refined palette of natural materials including Portuguese limestone, cherry timber and hand applied polished rock resin which work harmoniously to create an intimate clinic environment.
"The architecture of the clinic aims to transport the visitor from the busy shop floor into a quiet, considered inner environment that invites a feeling of reflection and relaxation - the client's brief was to create a luxury clinic that would allow visitors to be able to enter into the 'spirit of wellness'."
This design concept is also reflected in the choice of rock resin wall finishes, as well as the terrazzo resin flooring. Soft, warm to touch and natural materials all endorse this experience. Essentially the project called for a bespoke natural terrazzo finish that complemented the wider interior space – so the aesthetic flowed freely between the various areas. Our seamless poured resin-terrazzo flooring is the ideal solution.
© Sphere8, 2022
Bespoke blends
Most of our clients and followers are already very familiar with our BrecciaSphere range - our unique resin terrazzo material. For those that have yet to encounter one of our most popular products, we offer a strong and durable terrazzo flooring solution that is a thinner, lighter, softer, warmer, environmentally-friendly and comfortable alternative to traditional concrete terrazzo. For more information on how terrazzo has evolved over the centuries, and how Sphere8 is continuing to lead this evolution with new materials, check out our blog post here… Terrazzo! From goat's milk to resin!
In this case, we were required to create a brand new and bespoke terrazzo blend for our client – a challenge we always happily take on! Not many resin suppliers are able to be this flexible according to a design brief, but at Sphere8 we are always happy to hear a client's vision and work towards it together.
Italians do it better...
For the Harrods Wellness Clinic we created the new Milano BrecciaSphere hue. This combines a soft grey resin base in Solid Platinum Grey, with two different aggregates – Botticino Marble and Giallo Siena. The Botticino aggregate is a blend of white and soft grey pieces that create a neutral base with occasional darker flecks. The Giallo Siena is (as the name suggests) a yellow-based stone that adds warmth to the blend and occasional darker and yellow markings. Altogether it is reminiscent of the warm yellowish-grey of Milan Cathedral, hence its new name "Milano". This colour is now available for any of our clients to choose – in case you want to have a bathroom that is the same design as the Harrods Spa!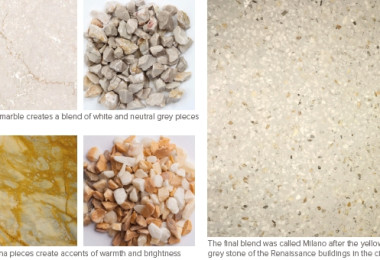 © Sphere8, 2022
We also created bespoke, hand-moulded coving in the same material – an innovative approach to the client's exceptionally high aesthetic demands. We were thrilled to find a practical and stylish solution, but creating coving from our poured materials and installing them on site. If you'd like to know more, we still have a sample of this bespoke terrazzo coving in our West London showroom. It's remarkable how elastic and light it is – and we're keen for our clients to understand the new potential this offers!
Creation and Innovation
All in all we were delighted but not surprised when this creative, stylish and ground-breaking project won Small Commercial Project of the Year at the Resin Flooring Association Awards last weekend. We are delighted that through our creative and innovative approach to the client's brief, we were able to be part of an exciting new chapter in this British icon's future – and that as such we can show the world the potential of resin flooring and Sphere8 in leading the charge towards innovative design solutions at every level!